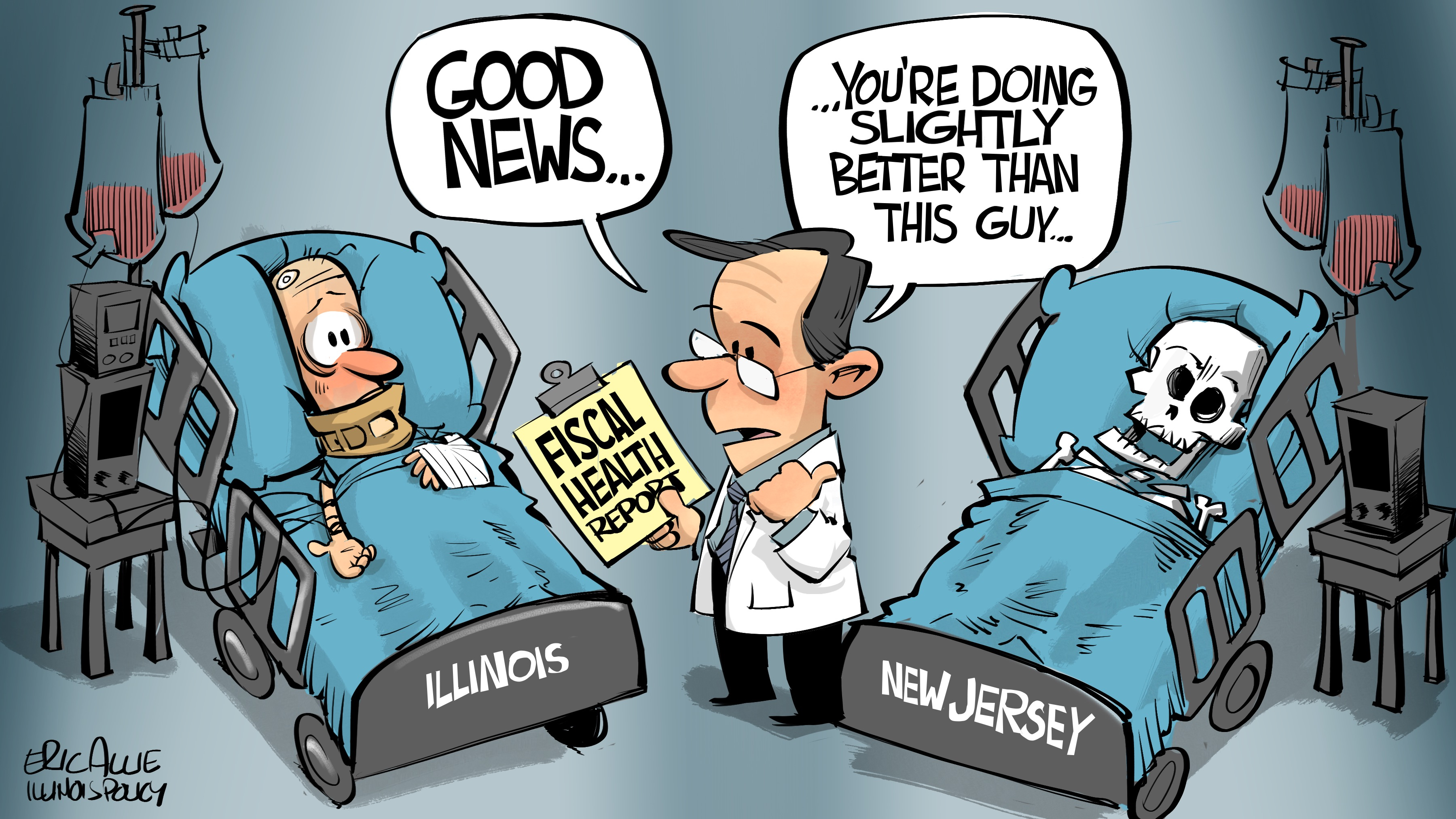 But not according to a Kiplinger report on taxes that puts New Jersey as only the fifth worst according to the criteria they used (ignoring things like debt and tolls while under-weighting the property tax burden):
The Bottom Line

Least Tax-Friendly
Income tax rates for Garden State residents are relatively low compared with some other tax-unfriendly states. They checked in as the third-lowest in our survey for states with a broad-based income tax. (There's also a payroll tax in Newark.) But while New Jersey gives residents a break on income taxes, it brings the hammer down when they buy a home. New Jersey's property taxes are the highest in the U.S. The state-wide average property tax on a $400,000 home in New Jersey comes to a whopping $10,120.
As any East Coast traveler can tell you, New Jersey is no longer a place where you can hop off an exit and buy cheap gas. At 41.4 cents per gallon, the state's gas tax is now the 11th-highest in the country. New Jersey is one of Kiplinger's top ten least tax-friendly states.
Sales Tax
6.625% state levy. That rate is cut in half (3.313%) for in-person sales in designated Urban Enterprise Zones located in disadvantaged areas. Salem County, which borders no-tax Delaware, also charges the reduced 3.313% rate. Notably, motor vehicles are charged at the regular rate in these locations. Most clothing and footwear are tax-exempt year round throughout the state.
Income Tax Range
Low: 1.4% (on up to $20,000 of taxable income)
High: 10.75% (on taxable income over $5,000,000).
Effective tax rate: 1.53% for single filers, 3.37% for joint filers
New Jersey allows localities to impose an income tax; the average levy is 0.5%, per the Tax Foundation.
Motor Fuel Taxes
Gasoline: $0.4140 per gallon.
Diesel: $0.4850 per gallon.
Property Taxes
In New Jersey, residents pay an average of $2,530 in taxes per $100,000 of assessed home value.
Vehicle Taxes
Sales tax is due on purchases.
Sin Taxes
Cigarettes: $2.70 per pack
Moist snuff: $0.75 per ounce
Other tobacco products: 30% of the wholesale price
Vapor products: $0.10 per milliliter of e-liquid.
Beer: $0.12 per gallon
Hard cider: $0.15 per gallon
Wine: $0.88 per gallon
Liquor: $5.50 per gallon
Taxes On Wireless Service
Inheritance and Estate Taxes
New Jersey imposes an inheritance tax, at graduated rates ranging from 11% to 16%, on the transfer from a decedent to certain beneficiaries of real and personal property that has a total value of $500 or more. No tax is imposed on transfers to parents, grandparents, descendants, children and their descendants, spouses, civil union partners, domestic partners or charities. There is a $25,000 exemption per Class C beneficiary (siblings, sons-in-law and daughters-in-law).
New Jersey's estate tax ended in 2017.
Oddball Tax
Want to own a plush or fuel-thirsty ride? That'll cost you extra in the Garden State. A 0.4% surcharge is levied on cars that cost more than $45,000 or have a combined EPA fuel-mileage average of 19 or below.